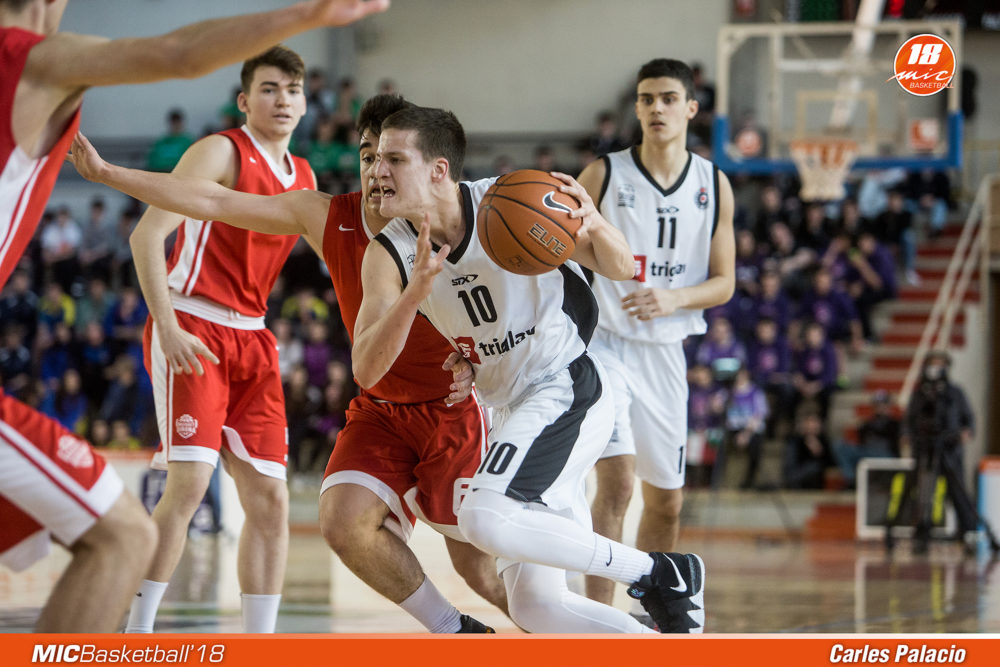 Stevan Karapandzic, Serbian young talent and U18M MICBasketball MVP
Competitive. This is the word that best definite Serbians, at least basket players of this Balkan country. Stevan Karapandzic (17 years old and 189 cm) is not exception and, like a good Serbian player, always get an idea into his head.
In the interview, we see quiet, relaxed speaker – like when it develops on the court – but above all, with clear and he shows self-confidence brutal.
After the final against Bàsquet Girona, the playmaker was not surprised at the difficulty and level of the rival, saying that "I was expecting. We had heard that to win this tournament we need to show our best version. I think that we played with energy throughout the game. The key I think that has been taken our game, which has helped us to get the win, that's the most important thing. Personally, the point-guard think have been "myself". 11 points, 9 rebounds, 3 assists and 21 of valuation at the end give credibility to his words.
However, what is the most noteworthy is his way of play. The 17-year-old boy did not steady hand in the decisive moment, or play in front of a thousand people or appear on the TV. When he has the ball it seems that this is an extension of his body, he controlling tempo of the match, organizing, leader, good defender and with ease to score. That only they believe with scientific data? Then we put those numbers. In quarter-final 21 points and 22 of valuation; 20 points, 9 rebounds and 26 of valuation in semi-final against Zentro Basket Madrid, more numbers on the crucial game mentioned a few lines above. Oh, and with good percentages at the throw. 79% on free throws, 50% in two shots and 46% in three shots. For all this, chosen in the five ideal U18 and MVP. Needless to say anything.
Karapandzic not only play 100% in the final, since the first day of the tournament he and his team showed the competitive natures that have the Serbian players. "In this tournament there are good teams, I want a strong rival" refer to the previous quarter-finals. "I want to win it, of course". No sooner said than done. The Belgrade team defeated all his opponents by an average of 29 points of difference, awesome.
Not surprising that the young promise makes a good tournament, there is work behind. Last summer he formed part of the combined Serbian U16 in European Tournament in Podgorica, Montenegro. In that edition, his team was third in defeating Croatia and he was the best assistant of the competition with 5,1 assist per game. We don't know if you will come to the national team of his country, but if we know for sure is that it will participate in the U17 World Cup in Argentina because he himself confirmed it in the interview.
In addition to the international arena, the talented point-guard also spoke to us of his current club. Asked for if you have already trained or made his debut with the first team, Stevan said "not yet, but I've trained and played with U18 team".
As all young players, Karapandzic also has a reference for learn and improve his game. "My favourite Serbian player is Nemanja Nedovic because is very athletic and I'd like to be like him".
Together with the player, there was the aide of the team Dule Karavesovic, who we used to ask him first-hand experience in which is based the famous Serbian training method. "Right now they don't play with systems. They have the space to create by their own to improve the skills. In senior basketball they would play actions move there, move here… but now, we want to push them to create in all aspects of the game".
Marc Tresserras' article