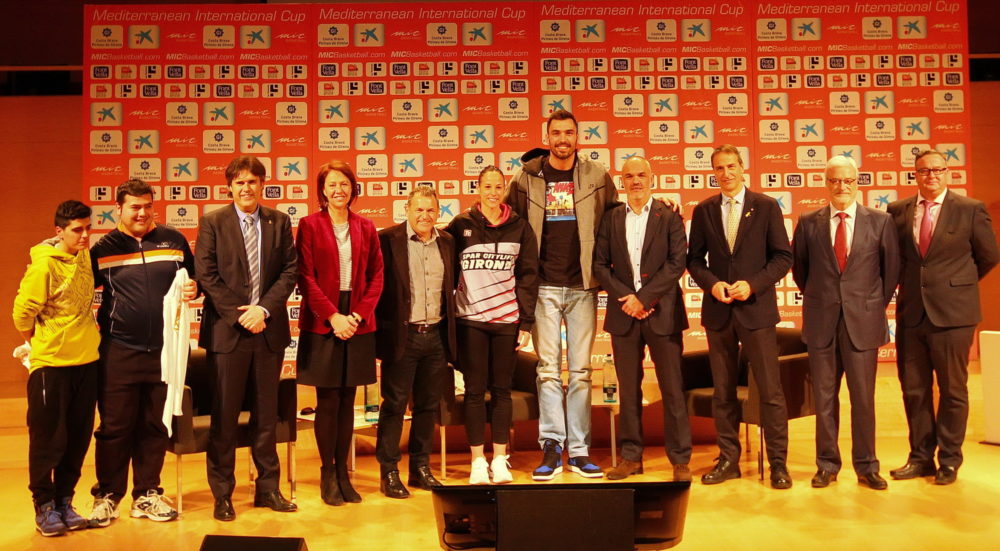 Pierre Oriola and Núria Martínez sponsor MICBasketball' second edition, which doubles teams and categories
The second edition of the youth international basketball tournament MIC – Mediterranean International Cup, has been presented this Monday. The event was attended by the FC Barcelona Lassa player Pierre Oriola and the Spar CityLift Girona player Núria Martínez.
Pierre Orriola recommended the participants of this edition "to have a good time playing the sport they like the most" and he urged them to "enjoy the experience with their team and if they can win, better". Núria Martínez, for its part, explained that the most important in an experience like MICBasketball is "to absorve the knowledge and culture of those who participate" and, the same way as Orriola, she also highlighted the importance of encouraging teamwork and enjoying the game.
Juanjo Rovira, MICSports director, has assured that "teams that participate at MICBasketball leave the tournament with happiness, fact that shows the large number of teams that are repeating in this second edition", and added that "They are glad with the great amount of prestigious clubs in the tournament this year". Rovira also highlighted the great growth of MICFootball "that now already includes from Hostalric to La Jonquera and that every edition adds more teams from the 5 continents". Finally, the director of the tournament wanted to stand out that MIC Integra has reached the 6th edition and "as every year, it will allow that boys and girls that participate to enjoy a day loaded with positive values".
The presentation also counted with Girona's mayoress, Marta Madrenas, on behalf of Girona city councils; the president of Diputació de Girona, Pere Vila; territorial representative of Secretaria General d'Esports in Girona, Josep Pujols and CaixaBank's banking institution director in Girona, Josep Blanch.
Madrenas assured that Girona is "a city that is comitted to sport, health and values, this is why we prioritize base sports as the force behind our sport policy" and also expained that being one of the main headquarters of MICBasketball "reinforces this bet, especially in a sport that is so important for our city as basketball".
In the other hand, Pere Vila, President of Diputació de Girona, has assured that the present edition "is the one that best represents the link between MIC and Girona's region, as evidenced by the 13 new headquarters and what will also allow magnifying the territorial impact of this sport event". Vila also highlighted the "dynamic growth of MICBasketball, that will double the number of enrolled teams this year", and remarked that "institutions have to keep working to mantain and expand the scope of events such as MIC" and in that sense he pointed out that "MICBasketball is a sample of what we still have to walk".
Josep Pujols explained that for Secretaria General de l'Esport de la Generalitat a Girona MIC is "the best youth football and basketball tournament of Girona's region", and highlighted that the tournament "helps to make known the best image of Costa Brava, as well as representing values where predominates the formation, coexistence and fair-play".
The director of the Bank of Institutions of CaixaBank in Girona, Josep Blanch, highlighted that "MICBasketball -and its commitment to a well-understood competitiveness- fully fits with CaixaBank because it allows us to associate our brand with values that for us are fundamental such as teamwork, effort and respect." Blanch pointed out that, as a socially committed company, CaixaBank is pleased to support MIC Integra from its origins and has specially spotted out the commitment of volunteers of "la Caixa", that collaborate actively with the organization of MIC Integra.
MICBasketball celebrates its second edition gathering 112 teams of 11 countries, overcoming the 60 that participated at the tournament last year. This means that more than 500 matches will be played and more than 1.000 players around the world will be present. A nice way to show the success of the first edition is that the 50% of the 2017 edition participating teams this year will repeat the experience of MICBasketball. One of the news of this edition is that 6 new categories will be premiered, 4 male (U18, U15, U13 and U12), and 2 female (U18 and U12).
MICBasketball will take place from March 28 to April 1, and will be played in 16 pavilions of Girona's region: Vidreres, Bescanó, Girona, Sant Feliu de Guíxols, Palamós, Lloret de Mar,
Maçanet, Cassà de la Selva, La Bisbal, Santa Cristina d'Aro, Begur, Calonge, Caldes de Malavella, Fornells de la Selva, Vilobí d'Onyar, and Sils.
The tournament, which this year counts again with the main sponsorship of CaixaBank and Diputació de Girona, defends values such as effort, constancy, respect and team play. MICBasketball is a great opportunity for all the participants to know other cultures and compete with future worldwide basketball stars. This edition, without going any further, counts with teams which have a great reputation such as FC Barcelona, Joventut de Badalona, Valencia Basket, Unicaja de Málaga, KK Partizan Belgrad, Scios Celtics, Besiktas or Khimki.
MICFootball has already reached the age of 18
At the same time as MICBasketball, this year will take place the 18th MICFootball. Edition after edition, MICFootball has become the world reference for youth soccer tournaments. For this reason, and with the will to continue growing, this 2018 the number of enrolled teams has grown from 264 to 372, and will play in 46 playfields of Costa Brava
6th edition of MIC Integra
MIC Integra of adapted football for people with intellectual disabilities celebrates 6 years. This year some football and basketball teams around Catalunya will be meeting Friday 30th of March in Vidreres to compete between them. MIC Integra has the support of Obra Social "la Caixa" and wants to promote the creation of a space with their own competition in the sports imaginary.