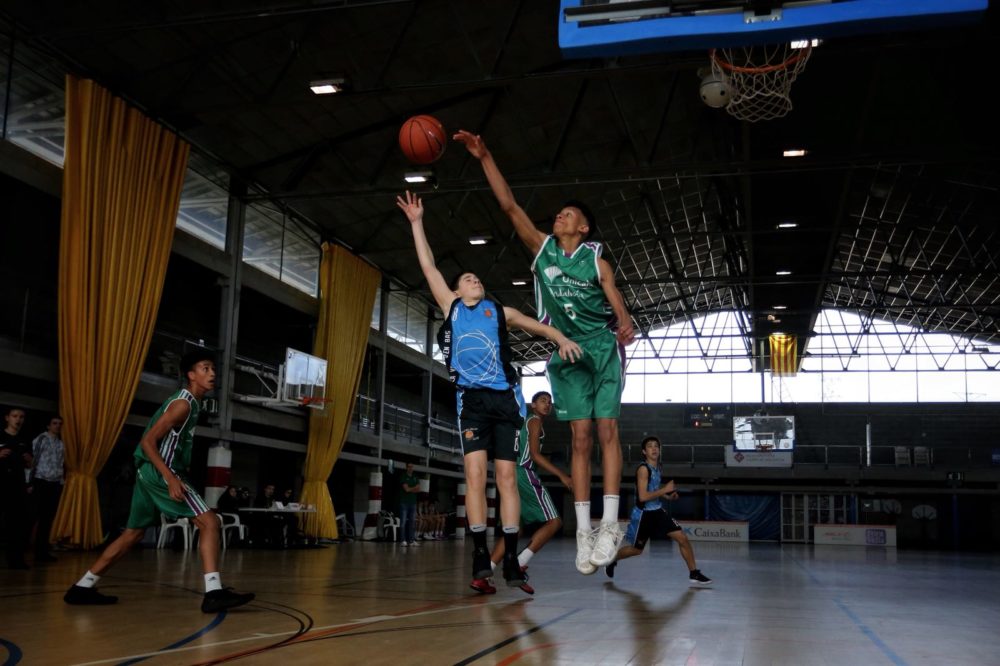 MICBasketball' second edition starts with an impressive Partizan-Girona
Victory of the KK Partizan against Bàsquet Girona (56-52), from junior category, at the opening match played at the municipal pavilion Palau Sacosta, in Girona
This evening the municipal pavilion Palau Sacosta, in Girona, has welcomed the opening match of the MICBasketball'18, which has been disputed between the male junior categories of KK Partizan, from Belgrad, against Bàsquet Girona. The game has symbolisedthe beginning of the second edition of MICBasketball, that will be played by more than 1.000 players from 112 teams, the double than last year. Finally, KK Partizan (56-52) has been declared winner in front of more than 1.000 spectators at the stands.
The competition began this morning at the pavilions of Bescanó, Sant Feliu de Guíxols, Maçanet de la Selva, Begur, Palamós, Caldes de Malavella, Fornells de la Selva, Santa Cristina d'Aro, Cassà de la Selva and Sils, where the first games from male and female categories have been played. The novelties of this edition are the pre-infantile male, infantile male, cadet male first year and junior second year male and female categories. The results of the matches can be consulted in real time at the website MICBasketball.com.
A stunning opening
The opening of the basketball tournament began with a parade of the flag bearers of each team, followed by an exhibition of dunks starred by Marquie Smith, player of Castellar del Vallès.
The event was attended by the Mayor of Girona, Marta Madrenas, who was very pleased by the fact that "Girona it is hosting a tournament such as MICBasketball". She emphasized that "for a few days it fills the region with joy while the youngers are enjoying the sport in a formative way".She also added that "the most important thing is to have a good time". Madrenas was accompanied by the sports councillor, Isabel Muradàs, and the vice-president of the Catalan Basketball Federation, Francesc Xavier Sentaló.
The director of the MICSports, Juanjo Rovira, has valued the growth of the tournament in a "very positive" way, and has pointed out that "the consolidation of the tournament has relayed, basically, on the confidence shown by many teams who have returned to the MICBasketball thisyear".
The second edition of MICBasketball will be even more international than last year, going from hosting clubs from 7 countries to 10, from 3 different continents. The most outstanding teams are the F.C. Barcelona, Valencia Basket, KK Partizan, Unicaja de Málaga, BC Khimki, Snatt's Femení Sant Adrià and SCIOS Celtics.
This year also returns MIC Integra, that will take place this Friday in Vidreres, where clubs such as CAR AEC Manlleu, Fundació Ramon Noguera (reigning champion) and the Secció Esportiva acidH will be competing. The Associació Encert for the Club Bàsquet Adepaf Figueres will be this year novelty.